GemFind Announces California Coast Designs as New RingBuilder® Fulfillment Partner
GemFind has recently partnered with jewelry making firm California Coast Designs as a product fulfillment provider for GemFind's RingBuilder® program. One of the numerous benefits of this new agreement includes a wider range of jewelry designs as well as better quality graphics and video capabilities for the many RingBuilder® platforms, including customizable website and mobile device applications.
---
We're very pleased to add California Coast Designs as a fulfillment provider. They bring so much in terms of creative jewelry designing, but also the technologysays Alex Fetanat, CEO and Founder of GemFind.
GemFind, The web Technology Solution Providers for the Jewelry Industry Since 1999
---
Newport Beach, CA (PRWEB) January 24, 2014
GemFind has recently added California Coast Designs as a product fulfillment provider for GemFind's RingBuilder® application (http://www.ringbuilder.com). The application allows users to create customized rings using a variety of useful sample guides and options to design a tailored piece of jewelry for online customers. As a jewelry manufacturer, California Coast Designs not only brings a number of jewelry ring designs to the RingBuilder® portfolio, but also offers RingBuilder® users rendered images and videos of exceptional quality and resolution.
Improved image quality of completed rendered jewelry in RingBuilder® gives users a detailed two-dimensional view of the ring created online. The additional video option gives a three-dimensional-like view of a customized rendered ring, allowing the user to see every detail, from a center stone's table to the ring's lower shank.
"California Coast Designs is the only company of its kind producing images and video of superior quality like this inside a RingBuilder® application," says Weston Kobzeff, CEO and co-founder of California Coast Designs. "Given GemFind's position as an industry leader in designing websites, application and technology development, and other electronic marketing platforms, we're pleased to not only bring beautiful jewelry designs to RingBuilder®, but also the graphic and video capabilities to make purchasing jewelry online that much easier and enjoyable for consumers."
California Coast Designs currently has 185 in-house ring designs, from traditional to trending. Kobzeff and his design team are adding new designs each month with the goal of having 300 designs by Spring 2014. "With 10 design options for 300 rings, we'll soon offer 3,000 design possibilities to add to RingBuilder®," says Kobzeff.
"We're very pleased to add California Coast Designs as a fulfillment provider because they bring so much in terms of creative jewelry designing, but also the technology to make online customization an incredible experience for users with exceptional quality visuals," says Alex Fetanat, CEO and Founder of GemFind.
Created in 2002, RingBuilder® has undergone a number of upgrades to become a leading industry tool for creating online customization jewelry options for its customers (GemFind has also created Pendant Builder™ and StudBuilder® based on the success of RingBuilder®). And with that evolution, GemFind has developed methods of tailoring RingBuilder® applications to the specific needs of companies in the gem and jewelry industry. From wholesalers and manufacturers to retail jewelers, RingBuilder® has become a versatile and innovative tool for today's jewelry consumers that are using a variety of devices to access the internet to research and buy goods and services online.
In response to the ways people access the internet, RingBuilder® is the only ring customization application of its kind developed with responsive web design, which automatically adjusts the format of the website to fit the width of any viewing device from smartphone to tablet and desktop to laptop.
RingBuilder® has advanced to being as customizable as the ring design possibilities in the application itself. Last year GemFind created a completely customized RingBuilder® application for Omaha, Nebraska-based Borsheims Fine Jewelry & Gifts. Special features to the application include custom design of the app, custom data, custom images, and custom drag-and-drop technology that allows the user to superimpose diamonds onto a variety of ring designs. GemFind also created a RingBuilder® mobile app for Hamilton Jewelers in an effort to help the New Jersey-based jeweler capture a greater share of the Millennial market.
The broad-based capabilities and functionalities of RingBuilder® were also applied to customized RingBuilder® applications for Infinity Diamonds and HRA Group. Infinity Diamonds is known for its own line of personalized diamonds using organic materials from a variety of sources from a couple's wedding cake to cremated remains of a family member or pet. GemFind's custom RingBuilder® application allows users of Infinity Diamonds' website-based application to customize a ring based on the desired color of a diamond as well as its size and shape.
GemFind also developed a RingBuilder® application for Vancouver-based HRA Group. A reliable source of conflict-free diamonds, the GemFind-created RingBuilder® app for HRA Group allows its client to source conflict-free diamonds from Canada, a diamond buying option that appeals to many socially-minded Millennials.
About GemFind: Established in 1999, GemFind is a technology company that serves the gem and jewelry industry by providing a variety of web-based marketing services including websites and e-commerce solutions, app development and creation, as well as social media management and electronic marketing programs.
About California Coast Designs: Company CEO and co-founder Weston Kobzeff has been in the jewelry industry for nearly two decades. He transferred his industry experience and jewelry-making experience to create California Coast Designs (http://www.californiacoastdesigns.com) in 2005 with its retail division. Last year the company added a wholesale division. Today the company provides finished jewelry designs to wholesalers and retail jewelry stores of all sizes, from small independents to jewelry store chains.
Images available upon request. For further information, please contact Paul Holewa, 800-373-4373.
To read the full article: "GemFind Announces California Coast Designs as New RingBuilder® Fulfillment Partner" click here.
---
Hamilton Jewelers Announces New Engagement Ring Builder and Shopping Apps
Both apps are available for download now, simply search Hamilton Jewelers in the iTunes App Store to begin your Hamilton experience.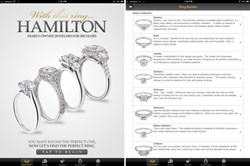 Princeton, NJ (PRWEB) October 09, 2013
Hamilton Jewelers announces the launch of, "With This Ring…," a fun and interactive engagement ring builder app. The easy to use format will walk couples through the process of designing the ideal engagement ring. The journey begins by selecting one of Hamilton's extensive engagement ring selections, offering everything from a classic solitaire to the timeless three stone-setting. The app is compatible with both iPads and iPhones, and has a style for everyone. After selecting a style, the user will be prompted to select the loose diamond based on parameters of cut, color, and clarity for their GIA certified diamond.
While it's enjoyable to design a one-of-a-kind rings, Hamilton recognizes the importance of such a milestone purchase. Therefore, the app also provides educational information such as the 4 C's; cut, clarity, color, and carat weight. To address the romantic side of this momentous occasion, Hamilton has included many novel proposal ideas to help any nervous groom pop the question in a memorable way. Guests can also bookmark their favorite designs, save rings as they design, and enjoy videos showing Hamilton craftsmanship.
"With this ring…" joins the Hamilton Jewelers portfolio of iPad and iPhone apps, also including the iCatalog+ app, which allows users to browse and shop the latest Hamilton catalogs. The home section features a slideshow of the latest images and products. After selecting an item, guests can double tap the image to share socially, learn product information, or purchase the selected product. Both apps are available for download now, simply search Hamilton Jewelers in the iTunes App Store to begin your Hamilton experience. Since 1912, Hamilton has helped generations of brides and grooms commemorate this important milestone and looks forward to continuing this tradition in the digital age.
To read the full article: "Hamilton Jewelers Announces New Engagement Ring Builder and Shopping Apps" click here.
---
GemFind Launches JewelCloud
Jul 15, 2013 4:40 PM By GemFind
Press Release: GemFind announced today the launch of the new Jewel Cloud™ platform for the jewelry industry. Over the past decade, entire industries has been dramatically transformed by evolution of online digital marketing. But for an industry which is built on tradition and the motto that "If it's not broken, don't fix it;" the idea of connecting and socializing online has been a difficult shift to accept.
It is more imperative than ever before that independent retailers connect with their consumers and meet them where they are, which is online and more particularly in online social networks. Today's consumer is now just a few clicks away and wanting content to interact in the digital world.
The most valuable content the retailer has in their arsenal is product information and photography. Customers have a need to search, sort, zoom, configure, like, share, tweet, pin, buy, and request more information on the jewelry, watches, diamonds and gemstones jewelers have to offer.
Retail jewelers primarily rely on the vendors they work with to supply the products they sell. Since the great digital shift over the past decade, there has been no standard on who is supposed to create the digital versions of products that can be utilized in the world in which we now live.
"The retail jeweler is driven to the point of insanity with having to deal with CD's, thumb drives, data sheets, light boxes, Adobe Photoshop, usernames and passwords. Every vendor has a different way in which they share their content and the retail jewelers of the world have had enough and are ready for a new approach," said Alex Fetanat, the CEO of GemFind.
With JewelCloud™ a retailer can login, connect with all of their vendors and invite vendors not in the cloud to join as well. Through JewelCloud a retailer is able to have conversations with vendors, schedule appointments, access marketing materials, and sync products from their vendors, right in to their website in real time.
Retailer Benefits
Connect with vendors
Invite new vendors
Search hundreds of the industries top brands.
Feed vendors' managed product data into websites
Schedule appointments with vendors in-store or at trade shows
Start conversations with vendors
Vendor Benefits
Connect with retailers
Invite new retailers
Search hundreds of the industry's top retailers and connect with them
Feed managed product data into their authorized retailers stores' websites
Assign Sales Reps to Retailers
Schedule appointments with retailers
Start conversations with retailers
Monitor products performance across retail website network
The JewelCloud features more than 200,000 products from more than 200 participating manufacturers and brands including: Hearts On Fire, A. Link, Andrew Meyer, Color Story, Eli Jewels, Gem Platinum, Memoire, Peter Storm, Precision Set, Rembrandt Charms, Stuller and more.
For more information, Please visit GemFind at https://gemfind.com or call 800.373.4373 or email info(at)gemfind(dot)com.
About GemFind
Since 1999, GemFind (https://gemfind.com) has been successfully uniting diamond dealers, gemstone dealers, designers, jewelry manufacturers and retail jewelers in a vertically integrated data distribution channel via the Internet. The GemFind Network is a membership organization that offers comprehensive online sales and marketing solutions connecting the virtual inventories and brand messaging of diamond and jewelry vendors to the websites of their authorized retail jewelers. From complete e-commerce and custom designed websites to virtual diamond and jewelry catalogs which are embedded into existing websites to personalized online marketing campaigns, GemFind provides a one-stop service programs to ensure the jewelry industry prospers in the age of digital marketing.
To read the full article: "GemFind Launches JewelCloud" click here.