Online Reputation For Jewelry Stores
Your online reputation plays a huge part in whether people decide to go to your store or another one with better customer reviews. Some of your customers are going to share their experience in your store and a few of those might end up as negative reviews. Do you have a plan to get, and maintain, a 4 or 5-star rating on review sites? Today we'll look at why reviews are so important for your store in 2019, review platforms you should focus on, and things you can do to boost your online reputation.
Customer Reviews Are Crucial To Success
People give reviews a lot of weight when it comes to visiting a store. According to Bright Local's 2018 Consumer Review Survey, 73% of consumers trust a business based on positive reviews.
Most people under the age of 30 grew up in a world where the internet answered most of their questions and they can easily find reviews. It's not hard to believe that most people make decisions based on what others say about a business.
Finding reviews about a local store is as easy as a Google Maps search or asking your phone for the closest jewelry store. The first thing to pop up is a list of businesses more than likely their rating shows up. Reviews have become easily accessible and anyone can become a critic. The ability to find or leave a review on any business is literally in the palm of our hands.
Search engines, like Google, enjoy showing reviews on search results. They know people searching for jewelry online are most likely in the research phase of their buying journey. These people are searching for information about your store, or a product, and looking to establish trust. Search engines are in the business of showing searchers what they're looking for. Reviews are an important part of the buying process and you would be doing your jewelry store a disservice by not having a strategy for your online reviews.
The Major Online Review Platforms
There are many reviews sites out there but for brick and mortar jewelry stores the 3 major platforms to consider are Google, Facebook, and Yelp. Each one has its own way of filtering out what they think are bad reviews. They get a lot of traffic from people looking for information and usually ready to make a purchase. These platforms also encourage their users to leave reviews for others. Let's breakdown each platform.
Google My Business Reviews
Recently, this platform has invested a lot of resources on online reviews for both e-commerce and local businesses. They also show product reviews for searches on specific types of jewelry. Google likes to show reviews when the opportunity comes up. This is why users trust the brand.
Yelp Reviews
This platform has been around for over 14 years and is dedicated to online reviews. People have trusted Yelp for local reviews. It has taken a dip in reputation mostly because of its strict algorithm that tries to filter out bad reviews. Unfortunately, many users who try to post legitimate reviews find that they don't make it past the Yelp filters. Yet, the review site is still highly used and isn't going away any time soon.
Facebook Reviews
The interesting part about Facebook is that most people learn about your brand from their friend on the platform. It's not unusual for someone to find your brand through a photo their friend shared. They'll arrive on your Facebook business page and the platform displays reviews. It's important to maintain a good rating on Facebook. A lot of traffic to your business page, with your reviews, will come social post your customers might post about your business. When they land on your page, and find good reviews and a high rating, this will reinforce what their friends shared about you.
Take Control of Your Online Reviews
Businesses that ignore negative customer reviews are leaving a bad reputation out there and most people are going to pay as much attention to that negative review as any positive one. Stores should take into account that when responding, everyone is watching. You should respond as if there were a customer in your store screaming and complaining in front of everyone in the store. How would you respond? It's important to remain calm, address the concern, apologize if necessary, take responsibility and rectify the issue.
It's important to constantly monitor your reviews and any information the public post about your store and service.  People can easily leave a negative review of your business at any moment. Making sure your responses get posted, address new reviews in a timely manner and report any negative reviews that abuse any terms of service. This may seem like a lot of work but you can easily hire a part-time employee to do this from home. Your rating can slip in a matter of days and you don't want to lose business because you didn't monitor and address your online reviews.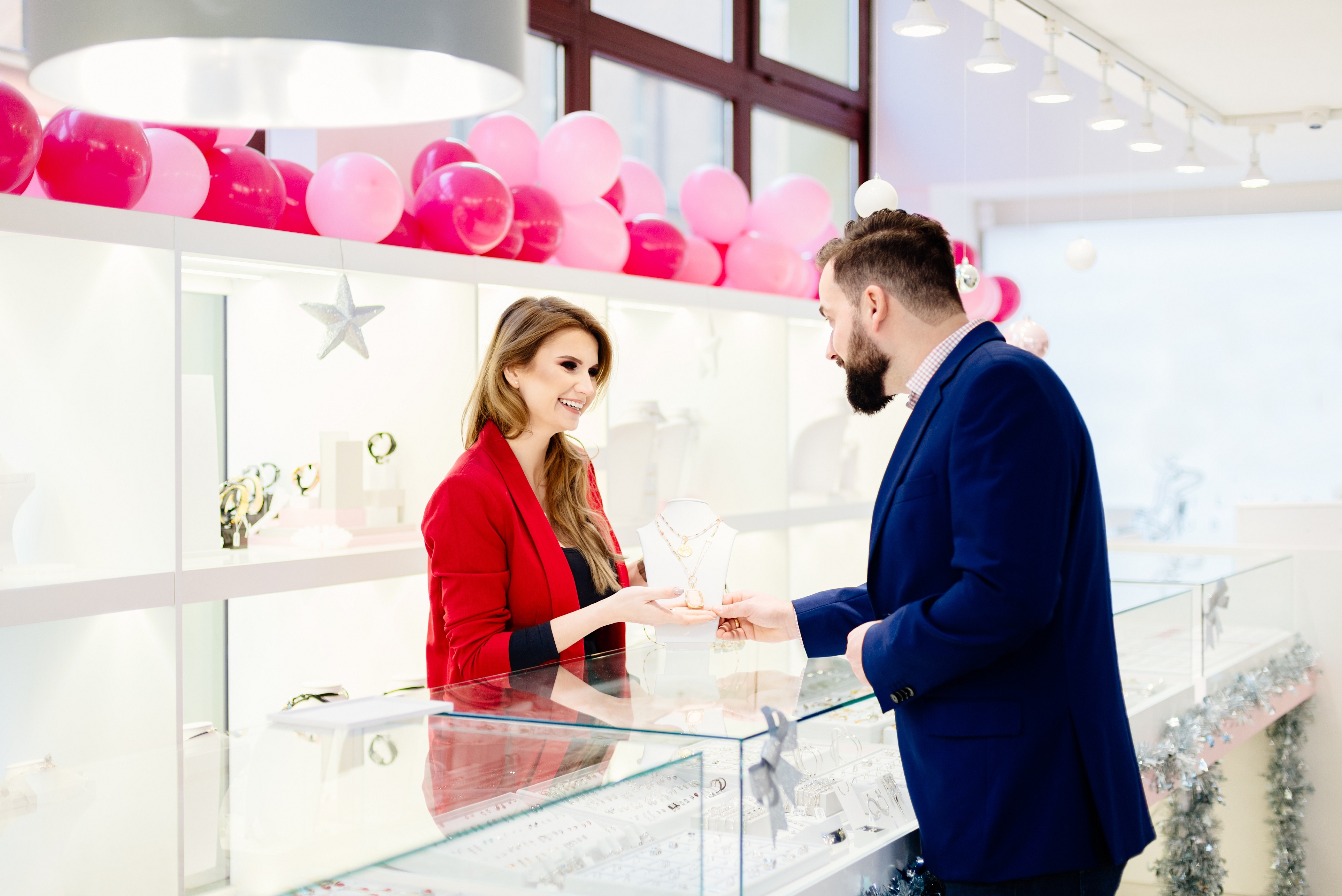 Get More Customer Reviews
The only way to make your rating go up is by getting more positive reviews. Responding to a negative review will help by discouraging others from leaving negative reviews, and showing your brand cares about its online reputation, but it won't' make the negative review go away. The best counter to a negative review is a few positive ones. And you can encourage more of your best customers to review your store.
Ask Happy Customer
The first way you can get more customer reviews is by educating your staff on the importance of online reviews. Encourage them to ask customers to go online and review the service. The best time to ask someone for a review is the moment they are most happy with your service. For many jewelry customers, this happens when they come back a second or third time.
Use Email
Another easy way is to email customers. Many will email you and send you a testimonial without you asking. This is a great time to respond, tell them you really appreciate the review, and kindly ask them to leave those same words as a review for you on Google, Yelp, or Facebook. You can also send emails to customers you think had a good experience and ask them to please review your store.
Be Consistent
40% of consumers only take into account reviews written within the past 2 weeks. Making sure your happy customers are always leaving feedback is something you can take action on. Be consistent when it comes to asking your customers for a review.
Utilize Podium
Lastly, try using Podium. Because 99% of text messages are opened versus the standard 15-20% open rate on emails. This is why Podium gets it right. Send text messages to your customers as they are leaving your store so it's fresh in their mind and they don't go home and forget to rave about their great experience with you. To learn more about Podium, visit their website https://www.podium.com/.
Still Need Help With Customer Reviews?
Managing your online reputation is a task that most business owners would rather not deal with. Having to respond to negative reviews on Yelp is not the fun part store owners think about when it comes to running a successful jewelry store. All of this is fairly new, but should still be part of your marketing strategy. Just like websites and social media, which weren't always around, they are part of your business that can't be ignored in todays world. The important part of managing your online reputation is to have a clear strategy that involves responding to negative reviews and encouraging the right customers to leave positive ones.
If you've got great service and raving customers who love to leave positive reviews for your store then your next step is to get more eyes in front of those reviews and into your store. Get in touch with GemFind. We have helped many jewelry businesses get more traffic to their website and their physical location. We have a strategy that can work for your jewelry store as well.